Steel Structure Industry Driven by Prefabricated Construction
Author:未知 Source:0  Updated:2017-09-22 09:09:17 
Regarding the mounting pressure on the environment, the emerging prefabricated construction is now gradually taking place of conventional concrete construction. Steel structure as an essential elements for prefabrication is a hot land for
Regarding the mounting pressure on the environment, the emerging prefabricated construction is now gradually taking place of conventional concrete construction. Steel structure as an essential elements for prefabrication is a hot land for development.
According to the Iron and Steel Upgrade Plan for 2016-2020, buzzwords like " excessive industrial capacity cutting, innovation, green building, transformation, restructure' hit the headlines of construction industry. The Plan has put forward the goal to enhance steel proportion that increase to more than 25%. To ramp up steel structure construction, the amount of steel used in steel structure shall be increased from 50 million tons to more than 100 million tons.
A series of support policies have been introduced to foster the development of prefabricated building and steel structure building. Steel structure enters a thriving time.
Steel structure construction copes with excessive industrial capacity cutting
It is reported that not a few provinces in China have carried out related policies to boost steel structure.
In Anhui province, proportion of steel structure construction of new public buildings is expected to increase at least to 20%, in the course of 13th Five Year Plan. While in Shanxi province which is an important production base of steel, the government has made a clear requirement on the energy conservation of building sector, namely for all new buildings, 15% prefabricated construction, 50% green construction and 40% green building materials shall be realized.
Mr. Li Yongjun, the Vice Director of Comprehensive Department of China Iron and Steel Industry Association, steel structure utilization in China has been changing slowly and the opportunity to take over transformation is not to be missed.
It is absolutely a daunting task to fulfill overall steel structure housing as the proportion of steel structure housing accounts for less than 1%. Nonetheless in developed countries like Europe, America, Japan, the proportion of steel structure housing accounts for 20%-50% while the proportion of steel structure bridge is at 30%-40%.
It is because of the undeveloped market for steel structure that an enormous development space has emerged. For each steel structure building, the additional 100 million square meters could facilitate 7 million tons of steel consumption. As per the data analysis of the State Statistical Bureau, the floor space of buildings completed has been totaled above 3.5 billion square meters each year. For instance, provided there is 20% floor space applied into steel structure, 34 million tons of steel materials will be estimated to consume. In this case, the excessive industrial production capacity could be greatly managed.
In general, excessive industrial production capacity cutting of steel and iron depends on market development. Demand for steel structure lessens the inventory pressure of steel as well.
As a unique show designed to bring together the leading voices of the steel construction industry, China Steel Build is highly focused by industry insiders.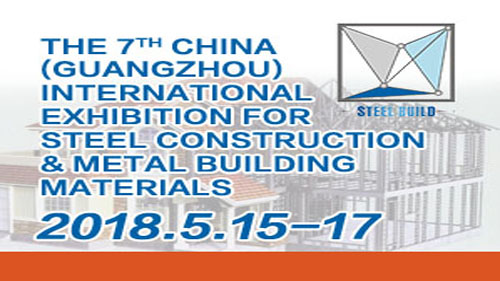 China Steel Build 2018 is a theme exhibition of CIHIE2018(The 10th China Guangzhou Int'l Integrated Housing Industry Expo), which Consists of China Prefab House Fair, ROOF CHINA, ROOFTILE CHINA, Wooden House & Structure Fair. China Steel Build caters for the entire spectrum of the industry from builders, developers, architects, innovators and consultants, each show provides exhibitors with the opportunity to network alongside decision makers and purchasers while showcasing their services and products to thousands of visitors.
If you want to be an exhibitor to show your newest products and expore China market, do not hesitate to join us! Pls contact me ASAP, and I will give you a best price and preferable booth.
Contact us
China Steel Build 2018 Organizing Committee
Ms. Trista Chan
Phone: +86 20 28945347,+86 182 1898 2900
Fax: +86 20 82579220
E-mail: 2897615498@qq.com, grand.wa@grahw.com
Website: http://www.steelbuildexpo.com/index.php?lang=en