China: Enthusiasm for Precast Concrete WON'T BE TEMPERED
Author:未知 Source:0  Updated:2017-08-30 14:08:52 
In the wake of reinforcing industrialization of construction industry, the precast concrete and prefabricated construction have drawn much attentions, a large amount of capitals and resources as well. Germany, as the pioneer of modern bui
In the wake of reinforcing industrialization of construction industry, the precast concrete and prefabricated construction have drawn much attentions, a large amount of capitals and resources as well. Germany, as the pioneer of modern building industrialization, features finished industry chain of precast concrete construction. With this regard, China has enhanced the collaboration with Germany enterprises to introduce in the industry chain mode. Here below are the reasons why China will keep enthusiasm and learn from Germany precast concrete construction.
PC or precast concrete is a construction product that produced completely in plant in line with standardized and mechanical process. In comparison with the traditional cast-in-place concrete, the PC upends the convention and owns the advantages of safety, high-caliber quality, speed, low cost, recycle value. For these environmental friendly but durable virtues, PC is also widely applied into the building, transportation, water conservancy,etc.
The revolution of precast concrete originated from Germany in which the concrete materials, prefabricated building and aesthetics are cultivated.
Development of Concrete Materials
Joseph Aspdin, the English cement manufacturer, has obtained the patent for Portland cement on 21 October 1824. To stabilize the cement molecule, there he introduced a new and substantially stronger cement, using a modified recipe for cement-making, the first "modern" Portland cement in 1844. Backed by such innovative revolution of cement, Germany innovated the artificial stone stairs one year later, pioneering the precast concrete industry in Germany.
Development of Precast Concrete or Prefabricated Construction
★ In 1845, Germany produced the first artificial stone stairs, marking the first piece of precast concrete of Germany;
★ In 1849, Joseph Monier invented the reinforced concrete and obtained the patent of concrete pots and tubs, and the reinforced concrete beams;
★ In 1850-1870, the first batch of Portland Cement was produced in 1850 and widely applied into the cement pipe manufacturing in the following 20 years.
★ In 1870, the recipe for liquid mortar cement was assured and contributed to the mass production of decorative precast concrete, and roof prefabricated concrete tile
★ In 1878, standard on Portland Cement was issued in Prussia
★ In 1890, Germany engineer C.F.W Doehring applied for the patent of prestressed concrete
★ In 1903, Juergen Hinrich Magens built the world's first commercial concrete mixer station and patented the transportable 'Commercial Concrete'
★ In 1907, precast concrete was applied to build the dome of Berlin State Library
★ In 1912, John E. Cozelmann prebuilt all precast concrete for multiple floors with reinforced concrete and patented it
★ In 1929, the first reinforced road was built
★ In 1930, concrete specialized for underground engineering was developed
★ Around 1940, the precast concrete were widely used for the military
★ In 1948, the first prestressed concrete bridge was built in West Germany
★ In 1954, new commercial mixer trucks were invented, consuming 50% of the national cement production output
★ 1950s-1960s, a great deal of multi-layer prefabricated slab-type apartment house were built in East Germany and West Germany industrial zones.
★ 1960s, Filigran enterprises invented the steel reinforced truss and laminated floor slabs
★ In 1978, steel fiber reinforced concrete were used widely
★ In the middle of 1980s, Filigran invented prefabricated steel reinforced truss and laminated floor slabs
★ In 1990s, the production line equipment for slab prefabricated components were developed massively.
The demand for prefabricated construction foster the precast concrete's development of the prefabricated housing, prefabricated multilayer house.
Here below is the percentage of prefabricated fittings on varied sectors.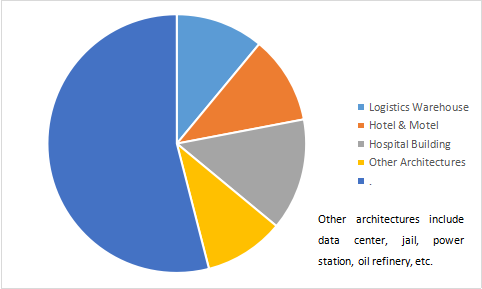 The earliest project of prefabricated concrete slab building was built during 1926-1930 in Berlin-Lichtenberg, Friedrichsfelde, the disabled servicemen residence. There were 138 sets of buildings in 2 or 3 storeys. Now the project is renamed as Splanemann residence and adopts the modernized site precasting technology, the multilayer composite panel parts amounts to 7 ton in weight.
PC Applications
1.Industrial Construction and Facilities
A large quantity of precast beam, exterior-protecting wall panel, drainage ditch parts, inner partition, prestressed panel, and other PC parts.

2.Residence, Hotel, Office
The laminated wallboard / floor panel, sandwich wallboard, thermal insulation, solid wall, balcony, and other parts.

3. Wind Turbine Tower

4.Underground Construction & Tunneling Engineering
Laminated-slab underground garage, underground pipeline, manhole, tunnel segment and other parts.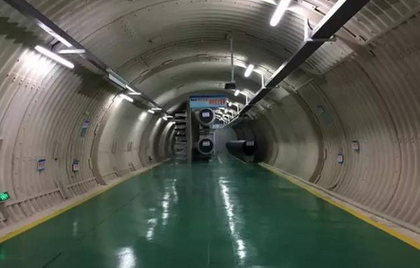 5. Retaining Wall
Used in jails, warehouse, etc.

6. Railway Construction
Track slab, railway sleeper, circuit frame, etc.

7. Road and Bridge Construction
Drainage facilities, curbstone, traffic barriers, soundproof wall, large precast box girder, etc.

Sources from Sohu.com