EPS Module Concrete Framework Commanded China's Attention
Author:未知 Source:0  Updated:2017-07-20 10:07:01 
By PMMHF Committee Last week, a piece of news about several villagers from Anhui building their homes with "foams" dominated the headlines of mainstream media across China, bringing a new prefab house technology called EPS
By PMMHF Committee
Last week, a piece of news about several villagers from Anhui building their homes with "foams" dominated the headlines of mainstream media across China, bringing a new prefab house technology called EPS Module Concrete Framework into public view.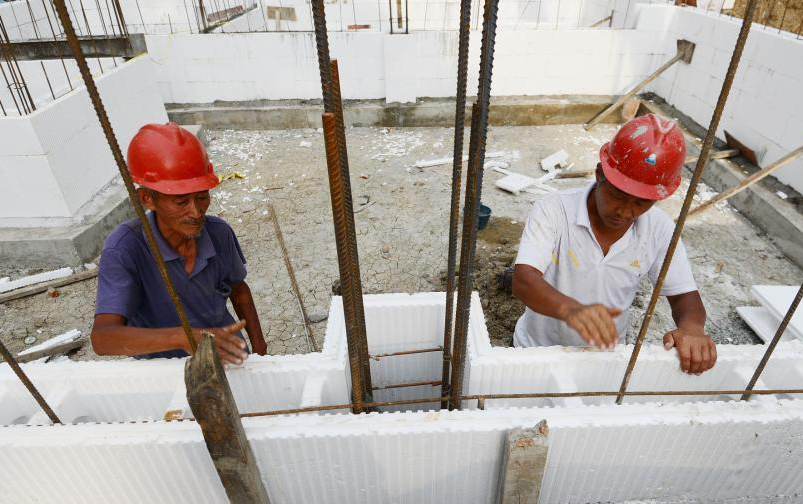 Anhui villagers building their home with EPS modules
Though regarded by many in China as "unpromising" a few years a ago, EPS Module Concrete Framework is now widely applied to green house construction, sometimes apartment buildings and now farm houses. Seeing its unlimited possibility as a green prefab house technology, many provinces, like Heilongjiang, Liaoning, Shandong, Hunan, Ningxia, etc, have been promoting this construction system by putting forward relevant technical standards.
But recently, an even more uplifting news came that a national technical specification for the application of EPS module thermal insulation walls by the Ministry of Housing and Urban-Rural Development, was going to be implemented soon this November, which suggests that EPS module has now received the full recognition and supports from the central government, and is expected to become one mainstream green building material in the near future.
If you are confident that your EPS module concrete framework solutions have what it takes to make a hit in Chinese market and grab a fair share, then please don't miss the 8th China Prefab House, Modular Building, Mobile House & Space Fair (PMMHF 2018), one of the best modular building fair in China!
The 8th China Prefab House, Modular Building, Mobile House & Space Fair (PMMHF 2018)
Date: May 15th-17th, 2018
Venue: Guangzhou Poly World Trade Center Expo, China