What Should We Learn from Germany Precast Concrete Construction
Author:未知 Source:0  Updated:2017-08-30 10:08:44 
Germany takes the lead in the combination of Industry-University-Research development, which could be well illustrated in the machinery manufacturing, auto and chemical industries. Research & Development In Germany,
Germany takes the lead in the combination of Industry-University-Research development, which could be well illustrated in the machinery manufacturing, auto and chemical industries.
Research & Development
In Germany, the development of PC construction technologies or products are much involved in the closer partnership among the universities, colleges, and R&D enterprises or associations. The small family-run enterprise, Filigran is in the case. Filigran engages in the R & D of steel structure products. Nonetheless, by collaborating with scientific research units like Dresden University of Technology, and Universität Hamburg, it is this seemingly small company that invents the truss-reinforced composite floor slabs Their concerted efforts on the truss-reinforced composite floor slabs contribute to the industry standard and global application.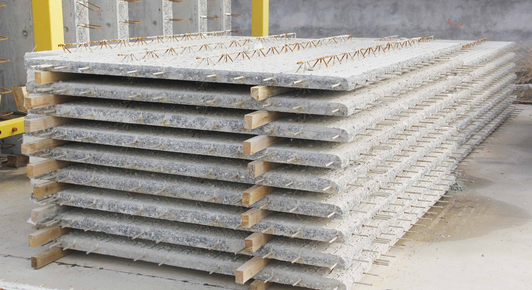 Design
The design of prefabricated construction is all in order and in close connection. During the construction, specialized and professional design work will be conducted by the construction offices or related mechanical, electrical firms. Among which, BIM (Building Information Model) is used widely, enhancing the accuracy of modular connection and reducing the construction waste, etc.

Production
Germany's solid and powerful design and process ability on mechanical equipment results in the qualitative development of precast concrete. Enterprises like Vollert, Avermann that specialized in machinery process and the software servers like Unitechnik, SAA are of great support and help in this regard.
Construction
A majority of construction enterprises in Germany are experienced on prefabricated construction, whether they are large groups like Hochtief, Zueblin or the small ones in local areas. In the whole industry chain, there are always a variety of enterprises devoting to the construction of precast concrete. Professional and inclusive associations are also set for the industrial exchange and innovation.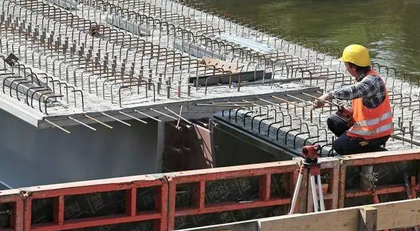 Operation & Maintenance
The residential building with multilayer slabs built after the War called for massive maintenance and reconstruction. Event though the newly built prefabricated buildings are also in need of energy management, property management, etc. Thus, the property management firms are not rare. While Germany magnet Sievert is the professional and experienced enterprises that provides reconstruction projects and special materials for maintenance.
The whole industry chain of PC in Germany features five characteristics.
Industrialization: from the production methods of PC to the logistics channel, or construction varieties, it is never difficult to see that all Germany strives for procedure standardization, mechanism and high efficiency.
Socialization: the whole industry chain covers a variety of enterprises, and most of suppliers dealing with equipment, accessories or chemical agents, or other sectors share diversified business scopes. This is a sort of strong integration of social resources.
Energy Conservation & Emission Reduction: Germany is universally known as a power thinking highly of energy conservation and emission reduction. So associated laws and regulations are enforced to strictly restrict the prefabricated construction. In this context, the technology or product development of every enterprises moves forward the high efficiency and quality improvement, emission reduction. In precast concrete construction, it will be no exception.
Information: since the concept of Industry 4.0 that launched in Germany, the 'smart factory' era has come into being. In comparison with other regions, the information in Germany is superior to other regions no matter what it is about
prefabricated housing, components manufacturing or construction enterprises' management.
Inheritance and Development: in the PC sector, a lot of family-run enterprises with hundreds of history, excels at the technical accumulation or R & D ability in some fields. Their persistence on innovation and efforts on product improvement are the valuable legacy to hand down, as well as the most respectful things to carry forward.
Sources from Sohu.com